- - - - - - - - - - - - - - - - - - - - - - - - - -
Over 800 books on sale. Click on "products"
at the following Amazon web page link:
BOOK HARVEST
- - - - - - - - - - - - - - - - - - - - - - - - - -

Recent books from William R. Parks: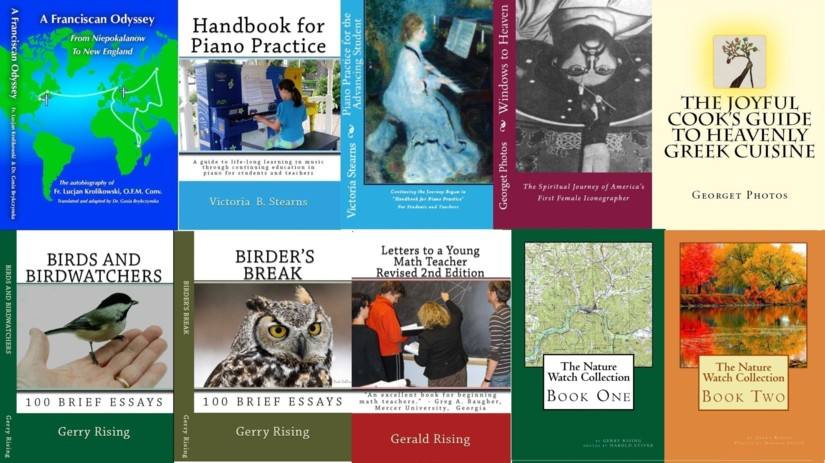 The following books are listed for sale by title and author on Amazon.com.
We accept Purchase Orders in the USA and Canada from book sellers, libraries and schools. Email: wrparks.com (at) gmail.com

Biographies:


Windows to Heaven

– by Georget

Kontos

Photos. Biography of America's first female iconographer, Shirley S. Kontos (1949 - 1991). From a young age, Shirley seemed destined to follow the journey of a famous artist. Her studies earned her degrees from the Art Institute of Chicago, the University of Chicago, and Northwestern University. Her artistic talents brought her acclaim and recognition which led to an invitation to exhibit at the prestigious Whitney Museum in New York. She was well on her way to fame in the art world. However, a mysterious encounter with an angelic stranger changes the direction of her life.
This heavenly messenger reveals the journey of a heavenly calling. He shares with dreams of her life that she had not expressed to anyone. She is to become famous, but not in the artistic field she believes. She is to embark upon a spiritual journey to overcome her shortcomings and faults, and to acquire knowledge and skill in an artistic field which transcends the earthly and opens "Windows To Heaven."
Finally, she would arrive at the pinnacle of success. Before this successful moment, someone who had been very evil to her would capture her attention. If she ignored this person and turned her back in unforgiveness, all she had gained would be lost. The fascinating details of this spiritual journey are revealed in this previously untold story.



A

Franciscan Odyssey – by Father Lucjan Krolikowski. True story about a Franciscan priest arrested during WW II and sent to Siberia. After the war, he adopted 150 children whose parents died in Siberia, brought them to Canada, placed them in homes and helped in bringing them up and he later officiated at their weddings and baptized their children.

Colours of Fire

– This is a biography of a Polish nurse, Hanna Chrzanowska (1902-1973) by Dr. Gosia Brykczynska. Hanna has been beatified and on her way to full sainthood (the first lay nurse to achieve such an honor) in the Catholic Church. Hanna worked in Poland in community nursing but had to struggle to continue her excellent work under German occupation in WW II and then under the communists after WW II. Hanna is a fitting model for today's generation of nurses and healthcare workers.


https://www.youtube.com/watch?v=dscsCw-eF24

Music:
Handbook for Piano Practice – by Victoria B. Stearns. This book is an excellent companion and guide to piano practice, for both students, whether amateur or aspiring music major and a reference for teachers as well: the principles of good playing are the same for everyone.

Piano Practice for the Advancing Student: Continuing the Journey Begun in "Handbook for Piano Practice" For Students and Teachers

– by Victoria B. Stearns.

This book continues the journey begun in "Handbook for Piano Practice," and like its predecessor, it is not a method, but a guide to accompany piano studies. Now the emphasis is the canon of piano literature: the master composers and their works. The elements and techniques of each stylistic period are explained so that the student can establish a solid background, which in turn will also enrich music appreciation in general. More practice hints are included for this advancing level, with

efficiency

of learning a priority, along with suggestions for expanding one's musical repertoire and knowledge in general. There is so much information that cannot be absorbed in the time constraints of lessons, so the student needs a reference book

.

Mathematics:


Program Your Calculator

– Dr. Gerald Rising and Dr. Deborah Moore-Russo, of the University at Buffalo and Dr. Eileen Schoaff of Buffalo State College wrote "Program Your Calculator," to give a basic introduction to programming with the TI-84 calculator through a series of interesting examples.


https://www.youtube.com/user/ProgramYourCalc

Program Your Calculator (Large print)



Letters to a Young Math Teacher

– by Dr. Gerald Rising. "An excellent book for beginning math teachers." – Greg A. Baugher, Mercer University, Georgia.



Beginning Algebra

– The text presents basic concepts in simplified personalized form often used in online PI (Programmed Instruction) Internet-based courses.



1 + 1 = 1 An Introduction to Boolean Algebra

and Switching Circuits

– This text was taken from an audio-visual Computer Math Series which was reviewed in

The Mathematics Teacher

and received praise, "the development is well done."


https://www.youtube.com/watch?v=1DddWEuguc4



Introduction to Gambling Theory – Know the odds

–

This text covers the fundamental concepts of probability and gambling theory in a simple and easy to understand format.




Nature Series:
Birder's Break – A birdwatcher for 80 years, the author, Dr. Gerry Rising, brings that experience to informal essays which will appeal to all levels of bird and nature enthusiasts.

Birds and Birdwatchers – This book contains many of the informal essays written by Dr. Gerry Rising during his 25-year tenure as a weekly Nature Watch Columnist for the Buffalo News. https://www.youtube.com/watch?v=WJnr2zaO-9Y

The Nature Watch Collection Book One – Professor Rising seeks to communicate to his readers his own involvement with and love of nature. He has explored the out-of-doors through hiking, canoeing

and

biking. At age 85, he rode his motor scooter on a camping trip around Lake Michigan, completing his similar "circumnavigations" of all the Great Lakes. Rising lives with his wife Doris in Amherst, New York, a Buffalo suburb. He has two children, four grandchildren

and

a great-granddaughter.

The Nature Watch Collection Book One (Color Edition)

The Nature Watch Collection Book Two by Gerry Rising

The Nature Watch Collection Book Two (Color Edition)

Earth, God's Garden – By Donna Lewis. This book is an uplifting prayerful experience. It teaches young people and adults how to appreciate the beautiful manifestations of nature and life on earth utilizing excellent large colorful photographs with unique camera angles.