Made in America: Sustainable Building Products, Materials & Methods - 2nd Edition
Authored by Robert A Wozniak Jr

.

Avaibale from Amazon.com
List Price: $29.95
8.25" x 6.5" (20.955 x 16.51 cm)
Black & White on White paper
The 2nd edition has 292 pages.
Publisher: William R. Parks
ISBN-13:

978-0884930389
ISBN-10: 0884930386
BISAC: Architecture / Sustainability & Green Design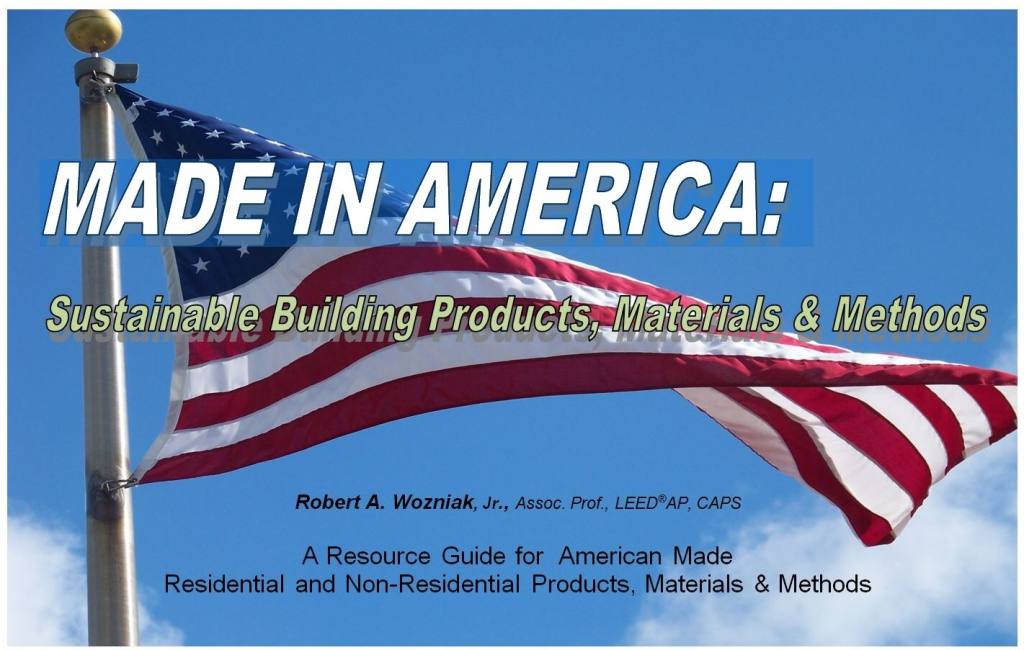 As stated by Anders Lewendal, Builder and Economist: "If every builder bought just 5% more U.S. made materials, they would create 220,000 American jobs right now."
As an effort to help continue to stimulate and sustain the USA economy, this book celebrates, promotes and honors those companies that have and continue to employ the American workforce to creatively design, fabricate and distribute the various green building materials and products – proudly made and listed within.
At no cost to the manufacturers listed within, this resource simply organizes their products and materials using the current Construction Specifications Institute (CSI) MasterFormat™ - as used within the Architectural, Engineering and Construction (AEC) industry.
The American companies within, and the entire USA thank YOU - for specifiying and integrating ALL American – sustainably made products in your next project!
About the Author:
Robert A. Wozniak, LEED®AP, is currently an Associate Professor within the Architecture Department at Pennsylvania College of Technology, Williamsport, PA. Previously, he has been employed with various roles within the A/E/C profession in Buffalo, NY, Tempe, AZ, Vincennes, IN and Jamestown, NY.